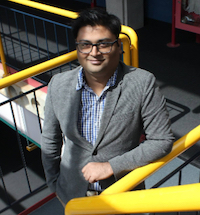 My research centers around Deep Learning and its application in Computer Vision.
I am a first year PhD student at VIP lab - University of Waterloo and Machine Learning Research Group - University of Guelph where I am supervised by Dr. Alexander Wong (UWaterloo) and Dr. Graham Taylor (UGuelph). Before this, I completed my MASc. in WAVE lab & VIP lab at University of Waterloo, where I worked with Dr. Steven Waslander and Prof. David Clausi.
Previous to joining UWaterloo, I was a research engineer in LIP-6 - UPMC-Sorbonne University, Paris. There I had great time working with Prof. Matthieu Cord and Asst. Prof Nicolas Thome
For a full history, here's my Curriculum-Vit&aelig, Google Scholar and LinkedIn.